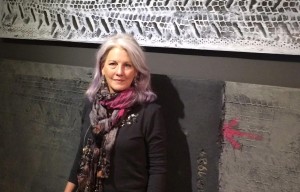 Ericha Scott, PhD
Personal Statement
I had failed fourth grade and I was just about to fail it twice when I overheard my teacher whisper to my mother, "You know she really likes art, why don't you give her art lessons?" I can remember thinking, "That is a good idea." So my mother found a flip flopped, long-haired, hippy who drank to teach me how to paint. Entering the world of artist Jim Compton, paint, and color enlivened my life. By fifth grade I was reading college level. While I cannot make a claim that the two are directly related, after decades of study, I would say yes: art helped me read, or at least care enough to read.
I am an artist who uses art with my clients inside the practice of psychotherapy. I have been in the field for 30 years, and I would no longer have such a tremendous passion for my work, if I had not used art, all forms of art, as my co-therapist. Thirty years ago my supervisor said to me, "Oh, I don't know what you should do, why not use art therapy?" I am still slightly embarrassed to admit that I had to ask him, "What is art therapy?" Now, after five more years of college, numerous credentials, recognition, and a few publications in peer review journals, I am still asking that that question.
I use art for a myriad of reasons. There are times, I am just a Sunday painter or photographer. In the long ago past I taught college level photography for Broward Community College and in France for The Cleveland Institute of Art, as an assistant to the photographer Jean-Pierre Cannelle. I have made my own cameras and photo paper, and my photographs have been exhibited in a museum and several galleries. Other times, art is my lifeline, a way to express the inexpressible like the death of my beloved husband from a bone marrow transplant, or my grief about violence in the world. Sometimes I think I am painting as if a Sunday painter, when the rocks below the surface of the ocean water reveal themselves in a way that feels ominous, and later I find, that in a pre-sentient fashion this is a perfect reflection of what was happening that day.
All of that said, art is my medicine, my comfort, my go-to for insight and meaning. Art facilitates my deepest and most accurate intuitions.
General Statement
Art Psychotherapy is not considered to be an evidenced based therapy, due to a lack of large studies. Yet, there are small, but statistically sound, studies that support the efficacy of the creative arts in psychotherapy and addiction treatment. I would like to add a caveat to this statement, I assert that the efficacy of the practice of art therapy may depend upon whether art therapy is practiced by a licensed and certified art therapist or expressive arts therapist.
For the purpose of this web site, I use the term "art" loosely. The creative arts in psychotherapy includes processes such as painting, drawing, collage, sculpting, mask making, drumming, music, toning, dance, movement, psychodrama, monologues, journal writing, poetry, script writing, and more.
Creative art is able to open doors where there have been blocks, and it does so in a very gentle but powerful fashion. Art helps us bypass our verbal and cognitive defenses to arrive more quickly at the core of the self. It is also able to help us memorialize success.
For example, one client, a scientist, spontaneously arranged rocks on the desert floor to describe the pathway he had taken from his broken child self to becoming a whole and healthy man. His art became a form of celebration, marking his achievement in space and time, while validating his remarkable recovery.
Just as athletes need to cross train their muscles, humans need to cross train their brain, senses, and psyche. Talk therapy works, but adding a creative element can deepen and enhance the total experience. In each session, I seek processes that access one or more of the following: senses, emotions, thoughts, and perceptions.
There have been many clients who have avoided facing the consequences of addiction. In this one case when a client used miniature figurines to map out a long history of car wrecks, hospitalizations, and lost relationships – he felt stunned. Suddenly, as he looked at the chaotic tray he had created, one that replicated his own life, his addiction became real for him and at that point his motivation for sobriety came into being.
Other people have used the arts to aid in healing of grief, tragedy, and traumas.
The act of painting a tragedy and watching it unfold to become a powerful painting is a perfect metaphor for what counseling can do for your life.
Testimonials:
Dr. Ericha Scott is one of the most compassionate and skilled clinicians I've been fortunate to collaborate with. I feel blessed to have known and worked with her over the years and look forward to our next experience. I'm honored to call her a friend. (Mr. Ron Armstrong, Interventionist).
"Authenticity and compassion are the words that highlight the work of Dr. Scott. She is at once gentle, supportive,… and motivating. I have been witness to the very deep level of healing that occurs in many of the individuals with whom Dr. Scott works," (Marla Perry, PhD, Licensed Psychologist, Sierra Tucson, 2005).
"I have worked with Dr. Scott in several different capacities including psychiatric consultant and co-presenter of a three-hour workshop at national conferences…. This presentation was a first-rate experiential workshop that Ericha designed using art therapy techniques. Not only have I co-presented the workshop, but I have been a participant twice…. These workshops are enjoyable, informative and effective." (Colin A. Ross, MD, Psychiatrist, Internationally Renowned Founder and President of the Colin A. Ross Institute for Psychological Trauma, 1997).
"Ericha was one of the best trauma therapists that I have worked with at Sierra. She was able to work with very difficult patients who seemed to heal right before our eyes!" (Josie Collins, 2011)
"Dr. Ericha Scott demonstrates an exceptional competence in creating a healing experience using art,….as a testament to her presence as witness & her skill,…. every workshop had healthcare professionals deeply touched by the experience, sometimes opening themselves to areas of healing previously unattained in their own personal therapy," (Mary Barkalow, MD, Harvard Faculty, 2001).
"Ericha is an incredibly skilled and compassionate therapist who has worked with a wide array of trauma issues. She brings years of experience and her excellent qualifications to her work. She and I have shared many patients and I have always been impressed with the progress they make under her care and how well she is able to empower her patients," (Carolyn Ross, MD, MPH, Addiction Medicine Specialist and Consultant, Eating Disorders Expert, 2009).
"Ericha is an amazing art therapist – in fact, she's the best in the business. Her gifts are astounding: tremendous insight into her clients' thoughts, emotions and behaviors and an ability to understand others from a theoretical, clinical and humanistic perspective. Ericha cares deeply and consistently about her clients and colleagues. She is warm, sensitive, loving and compassionate, and always approachable. It is a pleasure and privilege to be her colleague," (Seth Kadish, PhD, Director of Group Therapy Services at PCH and Private Practice, 2011).
"Ericha is an exceptional consultant and clinician, trenchant in her analysis of both programs and individual therapeutic approaches. She's extremely well respected and well connected among the elite in the field of mental health, PTSD and addictions treatment," (Mr. Sam Darcy, Consultant, 2008).
NOTE FOR POTENTIAL CLIENTS: Just as counseling has benefits and limitations, so do testimonials. Testimonials, while offering hope, are not a promise of your success in treatment with this author. There are times that, even in the best of circumstances, a client does not realize the level of success hoped for during intake. A challenge of counseling and life, is to plan for success, while stretching for greater achievements. Road blocks to counseling success are multifactorial and can be generated internally or externally. If you become my client, our job will be to identify your goals and dreams, while searching for and hopefully ameliorating potential road blocks.