NOTE FOR ALL WEB SITE GUESTS AND/OR POTENTIAL NEW CLIENTS: The first three visits to my office or telehealth sessions are for an evaluation to see if my practice is appropriate for your needs and for us to establish a treatment relationship.
In addition, any communication between web site guests and this therapist, or downloading forms from this site, does not guarantee that a treatment relationship will be established. While in my office, if it is determined that my services do not meet your needs, I will offer several referrals to you to explore. This author (Dr. Scott) does not offer therapy services via this web site. Since the pandemic she does offer telehealth via telephone or HIPAA compliant Zoom.
The following Informed Consent Form lists or describes my credentials, professional fees, theoretical orientation and parameters of my practice, the limitations and benefits of counseling, parameters of confidentiality/privacy/privilege, duty to warn and mandated reporting of abuse, emergency procedures, cancelation policies, reasons for possible termination of the therapeutic relationship, and referral, etc. Please read this form carefully because it explains your rights and the limitations of your rights. There is also a form for clients to fill out regarding personal information. Please fill out the questions that apply to you. There are a few questions on the form that are there for me to fill out, you can bypass these questions.
Please print the forms below, fill out all of the forms to the best of your ability, initial every page, sign and date, make a copy for yourself and mail to me –  E. Hitchcock Scott, PhD, PO Box 6806, Malibu, CA 90264. Please make a copy of your driver's license to add to the package of forms you are mailing to my office for my records. THANK YOU!
MY LICENSES for CA: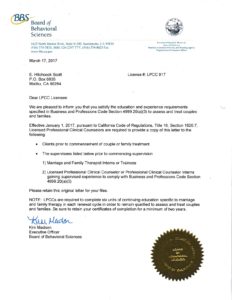 FORMS for YOU for INTAKE:
 HIPAA saved 2020 – 9:13 NOTICE FORM Notice of Policies and Practices to Protect the Privacy of Your Health Information.pages
This next form, the consent to release confidential information, is a bit complicated so I have highlighted the areas (with a green check mark) that need to be filled out, initialed and/or signed by you.
You are not obligated to fill out this form. I encourage you to sign releases for your most recent previous therapist, for your psychiatrist – if you have one, and at least one other person you trust who supports your healing process. if you have one, and at least one other person you trust who supports your healing process. There are two pages to this form, you need both pages for each separate release. You can only use one form for each release. Please be sure to fill out both pages for each authorization to release confidential information.
4)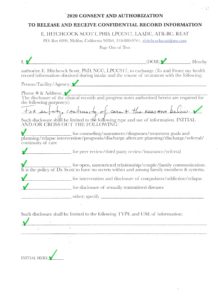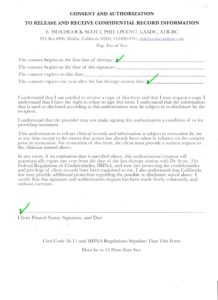 5) Art Release II 2015