ERICHA SCOTT, PHD
© 2016 E. Hitchcock Scott, PhD, LPCC917, ATR-BC, REAT
Board Certified Registered Art Therapist
Registered Expressive Arts Therapist
Private Practice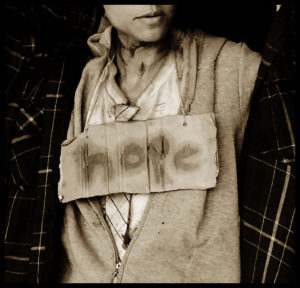 HOPE WRITTEN IN DRIED BLOOD
As a therapist, I have been listening to trauma in all forms, including systematic torture, for 31 years. Twenty-five years ago, in Dallas, I was asked to donate hand-colored black and white photography to a documentary about people who live on the streets. That one day – 25 years ago – as a photographer on the streets – was all I could take. I have never returned to photograph the streets, not because of the violence, but the tragedy.
My guide that day, worked for Salvation Army, but he still did not have a home. A few years before, his wife had been diagnosed with cancer and because they had no medical insurance, she died rather quickly. In his grief, he lost his job and his apartment. Throughout the day he was quiet, but very present for both his friends on the street and myself, a petite white woman with a camera.
The first man who approached me was an extremely tall man of color with dreadlocks cascading down his back. He asked me, "Hey lady, where is your car?" Without much thought I pointed, "Right over there". He said, "Well, I am going to slash your tires and then you can photograph that!" I responded more evenly than I felt, "Well you can do that, but I will not photograph it". He repeated himself and so did I. Not much more than a few minutes later, I heard a sound behind my back, and turned to see a floridly psychotic man dragging a six foot metal pipe behind him. I turned to face him. I reminded him that I had promised I would not take his photo. He shouted, "Well, I am going to make sure BITCH!" I said, "You have the power to make sure, and I will do what I promised". After both exchanges I realized exactly how frightened I had been when I found it difficult to change my camera lenses.
I learned that day that news travels very quickly on the streets, this was true even before the days of ubiquitous cell phones.
For some reason, somewhere, somehow, I passed the invisible gates of acceptance. First, the psychotic man, who had just lost a baby to a stillbirth, circled around me once again mumbling with his head down. This time he said to me, "I am sorry".
The the man with dreadlocks approached me in the middle of a crowd, I looked down to see both of my hands swallowed up in his, as he looked right into my eyes, "God Bless YOU!" He meant what he said.
It was as if he shot me with a bullet of grief.
This photo below is of a young woman who was passing through Malibu late last year. I met her when she came to an educational event about human slavery. I have cropped the image to protect her privacy even though she gave me permission to reproduce any photos I took.
I take these photos to share my view of people from all walks of life.
MEDIUM: Photograph taken with Telephone