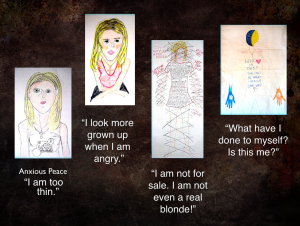 No one really disputes the lethality of anorexia. Anorexia is the most deadly of addictions and long before death,…. the compromised brain, body, and low levels of functionality are devastating.
Eating disorders can be as crippling and fatal as just about any toxic chemical.
In 2003, I read read a significant amount of ED literature. My goal was to integrate, in a more overt fashion, the art therapies into eating disorder treatment. While browsing, I found a reference to the work of Wooley SC and Wooley OW (1985). Their long-term success rates, caused me to sit straight up in my chair. I nearly dropped my book.
Although stunned by their results, at first I could not determine a differential between their work and mine. Their treatment approach was an integrated program of psychodynamic, experiential, educational, and behavioral interventions. This was not an unusual approach in the decades that followed them. In addition, their focus on body image was very similar to mine,…. except in one important way.
The difference, from what I could tell, was how much and how often they focused on body image experientially.
This made good sense to me. First of all, the greater the body image distortion, the greater the psychopathology.
The slide posted above reveals four drawings, during a period of six weeks, by one client. There are two life-sized silhouette mandalas (body maps), and two blind contour self-portraits.
The client's statements and art work titles, in order of the dates of the drawings were, "Anxious Peace, I am too thin," "I look more grown up when I am angry" (The client was angry with this author for insisting that she participate in the exercise even if she was uncomfortable), "I am not for sale, I am not even a real blonde," and, "What have I done to myself, is this me?".
A select few of statements made by other clients include: "I never knew my body was in proportion, I will never let anyone shame me again for my weight" (for being Rubenesque), "I didn't know that I look like a little girl," "I look like I want to die," and,  "I am so afraid of life, I hide by wasting away".
The clients above came to their conclusions on their own, during the drawing exercises, without prompting by me.
We all know that insight alone is not curative, many people have died of a self-acknowledged addiction.
Yet, neither therapy or the 12-steps can begin to have a true healing impact until the denial is broken. It is at this point, the point when the denial is broken, that a person is better able to ask for and receive help.
How much better to let paint and image be confrontational (the interventionist), so that the therapist is able to remain aligned with and supportive of the client throughout their awakening.