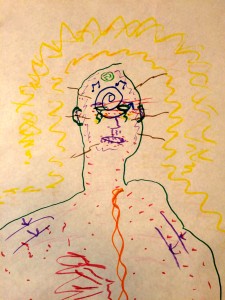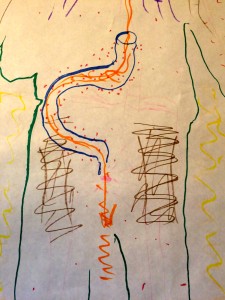 In October 2000, three days after our marriage, my husband received a bone marrow transplant. In many ways we were blessed, the strength that emerged from our union helped carry us through the gauntlet of chemotherapy and treatment. Randy, age 50 at our wedding, had never been married. His excitement, about marriage and his role as husband, was contagious.
For over a year Randy did very well. In fact, just before his last hospitalization the doctors had taken him off of all of his immunosuppressant drugs. We were hopeful that he would be able to have a normal life. Sadly, a few months later, Randy was hospitalized for the last time, succumbing to immunological problems common to those with transplants.
A few weeks before Randy died, we both lived on the hospital unit amid the chaos of staff hysteria, coupled with long periods of tedious boredom. During a few moments of boredom, Dr. Randy Tufts, a Lunar and Planetary Scientist for NASA, turned to me and said, "You know I have always wanted to draw a body map."
On March 3, 2002, three weeks before his death, I brought in my art supplies and Randy painted a life-sized silhouette mandala (body map) of all of his transplant symptoms. Later, He painted another body map of his hopes and dreams.
Although a quantitative scientist, Randy was also a certified Robert Fritz trainer. Randy embraced Robert's model of creativity and the importance of grounding yourself in current reality before or in relationship with your vision for the future. Randy titled this body map, "Current Reality".
As Randy drew his painful symptoms in detail, I felt panic. First, I had not known how much Randy was suffering. Immediately, my mind went blank. This art was not by a client, but my beloved husband, and I could not think of one word or a cluster of words to say that would be adequate to sooth his pain.
As he continued to draw, I watched silently. I kept a straight face, but inside my heart was shattering. I began to pray, but by the time he was nearly finished with his mandala, I was distressed. I even spent silent time chastising myself for allowing him to do art in his precarious state. I consciously sat on my hands and held my tongue.
When suddenly, with an amazing level of gusto, he turned around to face me and said, "OH HONEY, I feel SO much better!!!" There was a spiritual glow on his face, and for the first time in a long time, his eyes twinkled.
If it wasn't for my professional experience and training, the logic of his joyous expression would have escaped me. How could he list all of these horrible and painful symptoms and not feel worse?
Yet when people find and express a symbol (visual or otherwise) that closely represents their inner world, they often feel relief. This process is referred to as catharsis.
Here is a list of color coded symptoms created by Randy for his life sized silhouette mandala.
PINK = Bone and Bone Marrow
PINK on arms = Pain
RED and RED DOTS = Graft vs Host and Rash
RED at ANKLES = Swelling and Pain
RED LINES LEFT SIDE NEAR LUNGS = Back Pain
DARK GREEN UNDER EYES = Eyes Watering
YELLOW UNDER EYES = Jaundice
BLUE INTESTINES = Feels Like a Short Straight Pipe
ORANGE = Diarrhea
BLUE SPIRAL = Dizziness
PURPLE = Dry Mouth
PURPLE LINES WITH ARROWS = Weight Loss
PURPLE on HEAD and EARS = Greasy Sun Tan Oil
BROWN SQUIGGLES COMING OUT OF HEAD = Fatigue
BROWN SQUIGGLES at HIPS AND ARMS = Weakness
GREEN DASHES at HANDS = Shaky Limbs
BLUE NOTES at HEAD = Good Mood In Spite of the Bullshit
RED LINES at the EYES = Forward Looking
YELLOW and PINK OUTLINE OF BODY = Surrounded in Light, Hoping for a Cure
GREEN CIRCLE = A Honeymoon Trip Planned to Europe
Even today, I do not have adequate words for this body map. It has taken me twelve years to take it out of storage, photograph it, and to write about it. I think of the body tracing as if it is/was an effigy of a shamanic medicine man absorbing the pain for the patient. I too absorbed the pain, as witness.
Of course our dream was for a medical treatment that would extend his life. That did not happen. Does this mean that the art exercise was a failure? Does this mean that the art gave Randy false hope? Was this time wasted? Did this exercise make our situation worse? Truthfully, putting Robert Fritz's model aside, neither of us had illusions that an art piece would save him.
What I do know is this, from my experience, bone marrow units are possibly the most horrible environment, second only to a torture chamber.
For a period of time, Randy was able to express the pain that he would not talk about, and for him that process was satisfying. Not only was that process satisfying, he felt better in spite of all of the painful symptoms and intrusive medical treatments.
The experience of painting his body map was a very tiny oasis in a large desert of suffering, but that painting allowed him to catch his breath, sit in the shade a while, and take a small drink of cool water.
If you need help with or support for the role of caretaker, grief and loss please consider counseling. For more information please visit www.drerichascott.com, or call 310-880-9761 for an appointment.