GRATITUDE IN TIMES OF DESPAIR
ERICHA SCOTT, PHD
© 2016 E. Hitchcock Scott, PhD, LPCC917
Board Certified Registered Art Therapist (ATR-BC)
Registered Expressive Arts Therapist (REAT)
Private Practice in Malibu
310-880-9761
LINK TO THE SOBER WORLD: https://www.thesoberworld.com/2017/01/02/gratitude-times-despair/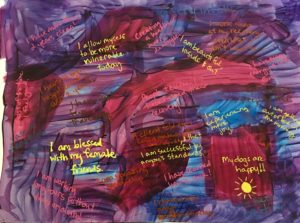 It is easy to feel gratitude or thankfulness when life circumstances go our way. It is fun to celebrate – for example – a new job or a promotion, a new or rekindled romance, financial windfalls, graduations or retirement, and recognition for our natural talents or hard work.
It is much more difficult is to feel gratitude when we are challenged with relational strife, grief and loss, trauma, abuse, addiction, poverty, and/or alienation.
I have learned about the power of gratitude by watching my clients.
I have worked with clients – who were nearly destroyed by abuse, trauma and sometimes even systematic and sophisticated torture – as they find a moment or moments of gratitude.
They find these moments in the midst of a history of horror and the aftermath.
Observing that first moment – the dawning of thankfulness – is as wondrous as watching birth and, in fact, it is a birth of a spiritual life.
Watching a client's face, as it shifts and changes with the new awareness that life is precious – is to bear witness to profound beauty.
Gratitude can be triggered by a small find in nature, a loving comment by a friend, a thoughtful gift, a break from suffering, an observation of selflessness in another, and/or the claiming of a talent.
This form of gratitude is born from a small event, of low monetary value, more often than a new car or TV.
We can all learn from those who have been shattered by grief and their determination to recover. It might sound superficial but I have thought, "If they can do it, so can I".
Survivors have taught me the true meaning of thankfulness and gratitude. They have taught me the important and essential place gratitude – the practice and the feeling – holds in their journey to wellness and wholeness.
For more information regarding spiritual and creative arts therapy processes please call Dr. Scott at 310-880-9761.